In your gallery of images, you can order prints of various sizes, as well as canvases. We also want to show you some additional products we offer! We have framed wood prints, hanging canvas prints, and beautiful heirloom albums. These 3 products can be ordered by sending us an email and we will place the order for you.

Framed Wood Print
Our beautiful wood prints feature your photo printed on real wood and then framed. They are handcrafted in the USA by an amazing family-owned business. They are truly works of art! Manufacturing and shipping take about 3 weeks. We will email you to let you know when to pick up at the studio.
16×20 $250
23×35 $350 (we have this size)
Frame color choices: Natural, Grey, and Walnut
Hanging Canvas Print
This unique and beautiful piece features your photo printed on canvas fabric, with wood trim on the top and bottom. It has a hanging hook at the top, as well, like an old map. They are handcrafted by an amazing family-owned business, right here in the USA! Manufacturing and shipping takes about three weeks. Minor imperfections are normal when printing on canvas. We will email you to let you know when you can pick up from the studio.
16×20 $125
24×36 $200
(We have the 24×36)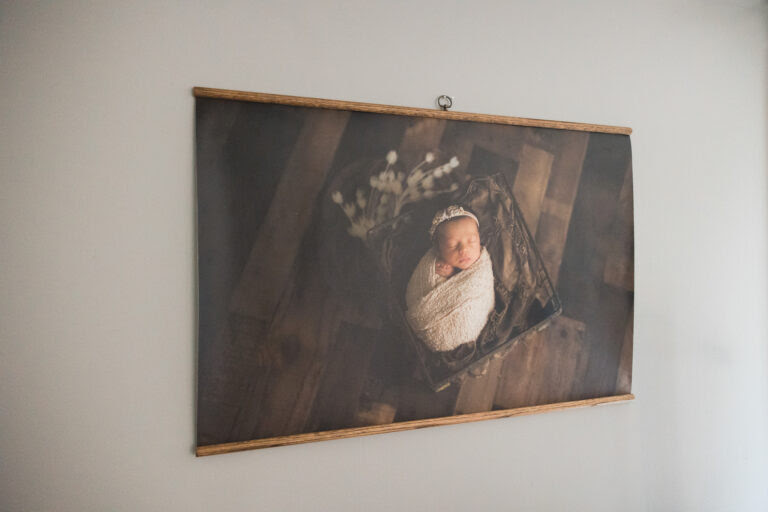 Albums
Our albums are lay-flat, which means that your images are printed clearly across the entire album spread. No images are lost in the gutter/center of the album. In addition, our hard cover albums come with thick pages that will stand the test of time. Handle these albums and share them! You will love having a portable way to share your memories with friends and family.
We will start an album design for you and send it over for you to preview. After making any changes you might want and choosing a cover color, we put the order through and have it shipped to you! For more info and images on albums, check out this post.

10×10 album: $250